Greetings from the Emerald City/Pacific Northwest
Hello folks, I fiddled on a guitar a bit in highschool and played the same 4-5 songs for like 30 years on occasion, until a little over a year ago, at which point I started a work share with my kid's school music teacher.  I provide landscape and design and building in exchange for guitar lessons.  This and the new found boredom that Covid brought to our area (I'm in the epicenter and it got ugly, that has thankfully passed for now) left me with a lot fo time on my hands around the back yard fire pit.  I've plowed 100+ hours into music lessons and many hundred more into practicing since then and now have some basic skill.  my motto is "I suck a little less every day".  I am here to see if I can get off the ground with some lead/solo skills.  I love bluegrass and old time music, a bit of country and a lot of rock and roll.  my love of playing though, is really in the blue grass and old time music realm.  went to quite a few blue grass concerts as a kid.  look forward to hearing what you all have to share!
Posted : November 8, 2021 7:59 PM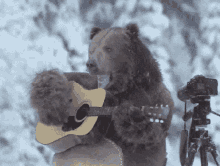 Welcome to one of the best guitar lesson websites I can think of 
Posted : November 8, 2021 9:49 PM
Hey George welcome to the site.
Posted : November 8, 2021 11:52 PM
Welcome George.  Love that classic country and trying to get a feel for bluegrass.
Posted : November 9, 2021 1:19 AM
Hey George welcome! I had similar situation I learned to play going to bluegrass festivals when I was 17 over 40 years ago. Only way I could learn from home was sending off for the Tab sheets by mail or go in in a music store!   6 months ago I found and dusted off my ovation I bought back in 1985 put new strings on and went to you tube. Came across Devin on GGO because I found he had the best and most complete Bluegrass flat picking lessons around!!  He goes in depth and has all the tabs available for every tune. I Love Doc Watson and the way he played and Devin has some great lessons on his style. I spent many hours to learn Black Mountain Rag, and soon hope to play full speed ! Have fun and pick on ! 
                                                                                     Brett S.  Aurora,Illinois 
Posted : November 10, 2021 2:01 AM