Full access to over 300 guitar lesson videos
Full access to four courses:
1) Rhythm Fill Riffs and Lead Guitar
2) Building Powerful Bluegrass Solos
3) Country & Bluegrass Strumming
4) Hybrid Picking Rhythm Techniques
Full access to all guitar tablature
Full access to our Guitar Lick Library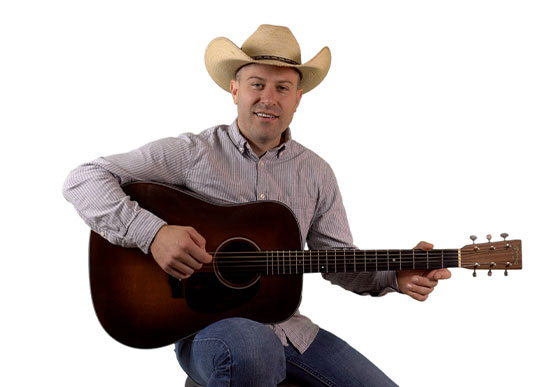 Born and raised in central Texas, Devin has been studying guitar the past 27 years and he has been teaching full time at Country Guitar Online for the past 8 years. At age 19, he moved to Nashville for a short period, then finished up his master's degree at Texas State University.
Devin started his career in the "real world" as a CPA. He practiced corporate tax accounting for eight years and eventually realized life is short and he decided to pursue a career teaching guitar online. He quit his tax accounting job at the beginning of 2015 and he has been working hard to record country and bluegrass lesson videos ever since.
Devin started out on guitar learning classic rock on an old Stratocaster and it wasn't long before he discovered country music. After college, Devin shifted a lot of his focus to the acoustic guitar and began studying bluegrass. In Devin's opinion, "Bluegrass guitar is basically country style lead guitar licks played on an acoustic guitar in a very fast-paced and dynamic way. There's so much to learn when it comes to country and bluegrass guitar and it never gets old."
Today, Devin's shares his passion for guitar with pickers of all skill levels through his guitar lesson videos hosted on Country Guitar Online and YouTube. Be sure to register and subscribe for his latest lesson updates!